General Dentistry in Jefferson, NC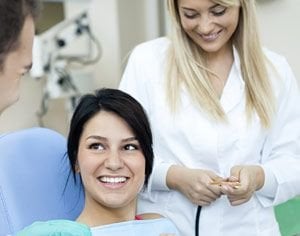 When it comes to your oral health, only the best care will do. Here at our practice, Dr. Joel Yates and his team are committed to providing you and your family with trustworthy, personalized, and dependable dentistry. We know that choosing the right dentist isn't always easy. You want a dentist you can turn to for regular checkups, cleanings, and preventive dentistry while also getting cosmetic dentistry, orthodontic treatment, and dental restorations to improve your smile over the years. Here at our practice, we offer everything you need in one place.
Our Team
Dr. Joel Yates has been providing general dentistry to patients living in and around Ashe County, NC, since 2006. He takes a comprehensive and preventive approach to oral care. Our team loves to educate our patients on their health to make sure that they are maintaining healthy smiles between those six-month visits. Our goal is to also make you feel as comfortable and relaxed in our practice as possible. We understand that a trip to the dentist's office isn't always easy or stress-free for some patients, and we work hard to make sure you get the gentle, understanding care you deserve.

Our Services
As a general dentist, we offer a wide range of services to meet your needs, and all of our treatments can be tailored and customized to your goals. We offer the latest techniques and most up-to-date technology to provide the highest-quality dental care we can right here in Ashe County. We offer everything from cosmetic services such as teeth whitening and veneers to restorative dentistry including dentures, implants, and same-day CEREC crowns. We also offer gum disease treatment, preventive dentistry including sealant placement and oral cancer screenings, as well as TMJ treatment and orthodontic treatment.

Patients First
Here at our practice, we believe that our patients are more than just a number. We aren't about rushing our patients through their visits. Instead, we want our patients to take a vested interest in their own oral health, feeling comfortable enough to ask questions and advice to Dr. Yates and his team to make sure they are getting the personalized and well-rounded care they deserve. We are committed to every patient that walks through our doors, and you'll see that commitment time and time again in the care we provide. This is why we've had loyal patients who have turned to us from the very beginning.

Dr. Joel Yates and his team have been serving Jefferson, NC, for more than a decade. If you are looking for a general dentist you can trust, we are accepting new patients! Call our team today at (336) 846-2323 to schedule your next appointment!